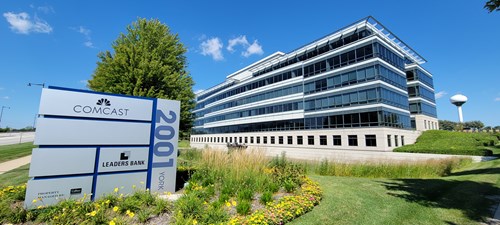 Comcast is one of Krusinski's long-time and repeat clients. Throughout our 15-year partnership, we have successfully completed more than 38 projects across numerous locations and today, we continue to serve as a trusted advisor.
From demolition to full build out, our team is renovating Comcast's Effectv office space located on the second floor at the York Center in Oak Brook, Illinois.
This renovation project consists of multiple offices, conference rooms, huddle rooms, collaborative workspaces, wellness room, break room and storage space.
In addition to the private offices and collaborative workspace, this office space also features wireless lighting controls, new millwork, luxury vinyl tile, new carpet, new free standing furniture and the installation of DIRTT system partitions.
To accommodate the new offices within the space, the project team is preparing for interior infrastructure work, which includes coring and routing between multiple floors in 15+ locations throughout the space and reconfiguring the HVAC, electrical, plumbing and fire suppression systems.
Since construction is taking place in an active, occupied space, the project team is managing heavy on-site coordination with building engineers and client staff to avoid service disruptions or downtime.
As many businesses continue to restructure and adapt to their latest office space and work schedule demands, Krusinski has maintained a lockstep approach with its clients, serving as a trusted advisor, while helping them achieve their latest organizational needs.
The expected completion date for this renovation project is January 2023.