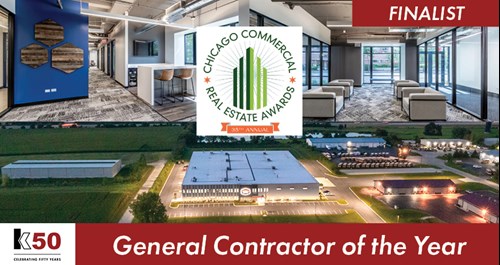 Krusinski Construction is excited to be named a finalist in the General Contractor of the Year category for the Greater Chicago Food Depository's 35th Annual Chicago Commercial Real Estate Awards.
As we celebrate our 50th year in business, we are proud to say that 2022 was a banner year for Krusinski Construction. From hiring new associates to experiencing one of our strongest fiscal years to completing nearly two dozen projects and maintaining a substantial backlog, we are proud of what we accomplished and that we did it SAFELY.
Our team delivers creative solutions to complex projects, and 2022 was no exception. We delivered a fast-track gourmet dining space in an occupied five-star Mag Mile Hotel, a high-profile and intricate fire restoration of a marina in Waukegan Harbor, a new headquarters facility for an automotive customization company in DeKalb, and many more in between. Our portfolio is well-rounded, and we pride ourselves on delivering on time. At the time of the nomination, we chose projects that we believe highlight success and overall accomplishments for - our clients (and their clients), various communities, industry partners and our team.
Our projects for the General Contractor of the Year category include the following: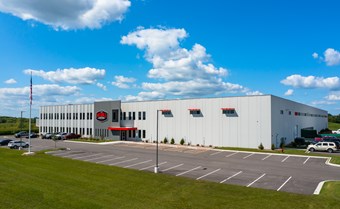 Wehrli Custom Fabrication in DeKalb, Illinois is a new 112,000-sf headquarters facility for Wehrli, which specializes in high-performance diesel upgrades, powder coating, and custom metal fabrication.
The new, precast facility was built on an 11-acre site and includes spaces for retail, reception, cafeteria, and 12,000-sf of office space with a 2-story element and elevator for future expansion.
Many windows provide beautiful scenery and invite natural light throughout. The warehouse features six docks, five drive-in doors, UPS dock, manufacturing area, performance department, space for powder coating operations, and various equipment including ovens, vehicle lifts, welding, and CNC machines.
This new space is the exclamation point for unprecedented growth and a dramatic business expansion story for the Wehrli family, since the business launched in a two-truck garage only ten years ago.
in Arlington Heights, Illinois is an adaptive re-use of an existing 56,800-sf, two-story facility once used as an AT&T Headquarters in downtown Arlington Heights.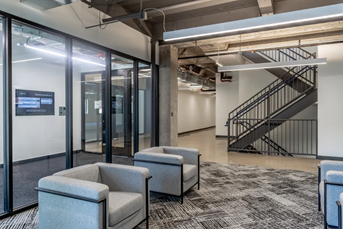 The interior upgrades include new MEP-FP systems, multiple offices, ADA-compliance, new carpet, acoustical ceilings, light fixtures, and flooring. Selective demolition was required in certain areas. The exterior upgrades feature an elaborate glass entry with deep 12' footings, 97 window replacements, RTU replacements, and upgraded electrical service.
The facility now serves as a modern, customizable co-working office space and has potential for future tenants.
Our third project is a Distribution Center for our E-Commerce Client, which includes the development of a 517,000-sf facility with office and warehouse space on a 50-acre site in DeKalb's ChicagoWest Business Center.
Completed in only 14 months, the facility has new MEP-FAFP systems, 18,000-sf office space, break room, locker room, wellness center, training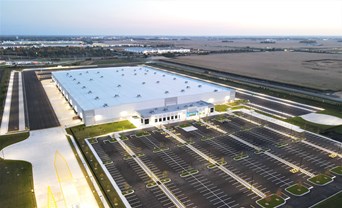 rooms, security desk, and warehouse with 247 loading docks, two drive-in doors, and two trucker lounges.
Exterior features include EV charging stations, 572 vehicle parking spaces, 487 trailer stalls, and primary and secondary guard houses. Offsite improvements for truck route access and deep sanitary extensions were also completed.
We worked closely with each of our clients throughout the design and construction process, enabling us to identify issues early and assisting owners in making informed and cost-effective business decisions.
In addition, as we operate in line with our core values, our firm, employees and family helped support many of our firm's initiatives, which include supporting and donating to multiple charities, our diversity, equity and inclusion, professional training, employee development and more.
We look forward to attending the awards dinner at the Hilton Chicago on March 9th and cheering for our team and fellow industry colleagues.