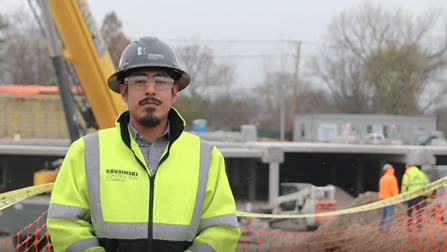 Krusinski Construction (Krusinski) is pleased to announce the promotion of Pablo Aquino, from Estimator to Pre-Construction Manager.
Since joining Krusinski in 2016, Pablo has progressed through multiple positions and has been part of many LEED certified and award-winning projects, including Avidor Glenview, a 258,653-sf, four-story, LEED certified residential complex with 168 units and Wood Hill Crossing East, an 85,000-sf, multi-tenant building, which was the first LEED certified building in the Village of Woodridge.
In 2020, after working four years as a project engineer, Pablo was promoted to project manager. His continued interest in analyzing each project in-depth, including budgets, prompted a shift to a different role. In January 2021, while still managing multiple projects, Pablo transitioned to an estimator role with the pre-construction department.
As an estimator, Pablo has worked on projects across multiple states and sectors, including industrial, healthcare, financial, student housing and mixed-use developments. His overall experience and progression through multiple roles within the company paved the way to his promotion to pre-construction manager.
"Pablo is an exemplary role model by consistently demonstrating a commitment to upholding company values and encouraging others to do the same. Over the years, he has continued to meet or surpass his goals, take great pride in his work and always views problems as challenges, as opposed to roadblocks. Not to mention that his attention to detail is second to none," said Neely Sadowski, Vice President of Pre-Construction.
Pablo has 17 years of industry experience and has worked in both, architecture and construction firms. He earned a Bachelor of Science in Architectural Studies from the University of Illinois in Urbana-Champaign.

The Krusinski team congratulates Pablo and is eager to see him succeed as he takes his career to the next level.