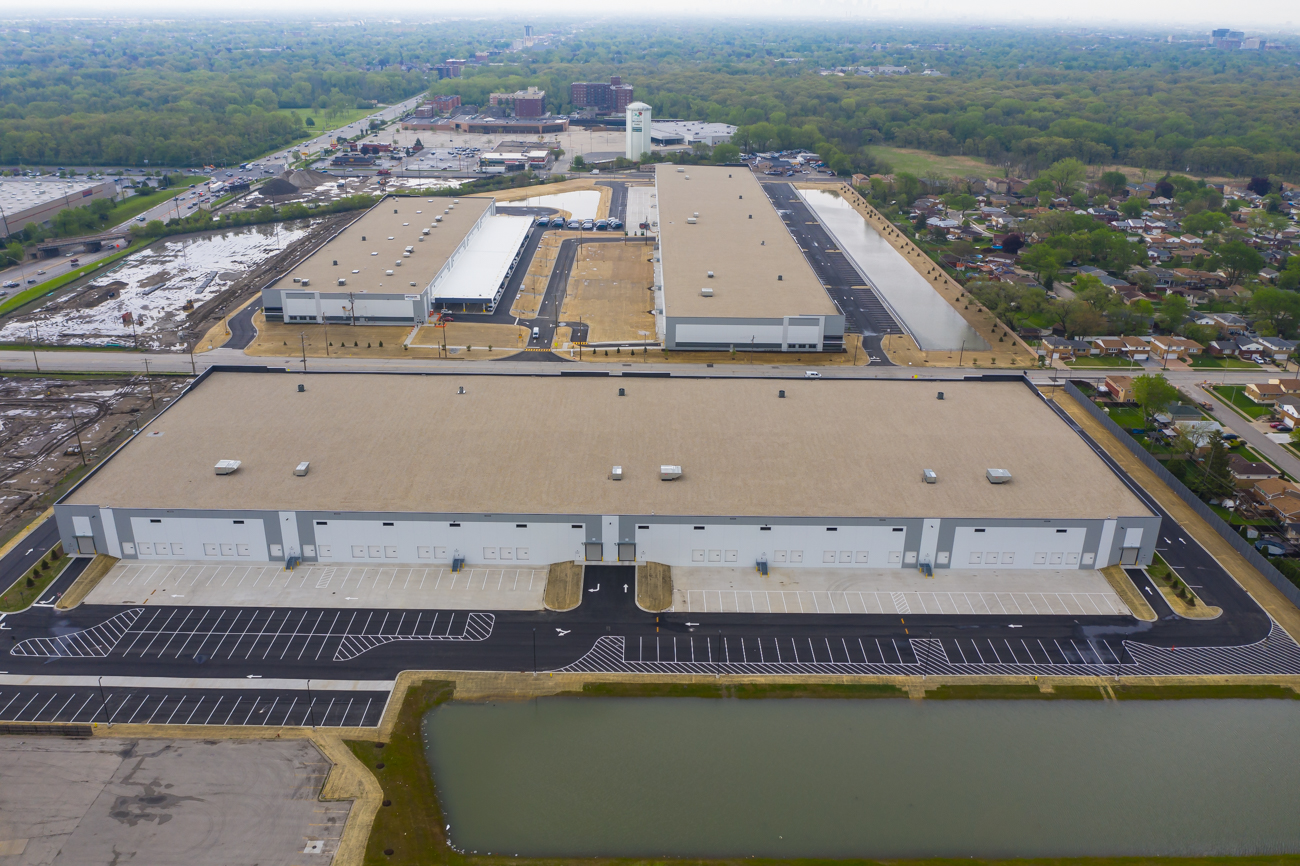 OAK BROOK, IL (May 6, 2021)—Krusinski Construction Company has completed all elements of construction, from demolition to ground-up construction and tenant build-outs for Ridgeline Property Group's Chariot Logistics Center, developed on the site of the former Maywood Park Racetrack. The three-building, 623,000-square-foot Green Globes certified logistics center was launched as a speculative development but later became a spec-to-suit project when all buildings were leased to one of the largest ecommerce companies in the nation.
Chariot Logistics Center sits on approximately 55 acres of land on at the intersection of North and 5th Avenues, on the east side of Melrose Park. Building 1, at 1800 5th Avenue, totals 236,000 square feet; Building 2, at 1801 5th Avenue, totals 252,000 square feet; and Building 3, at 1825 5th Avenue, totals 135,000 square feet. All buildings have 32-foot clear ceiling heights. The project also includes three newly-constructed and interconnected detention ponds.
Demolition and site work to prepare for construction was extensive and took approximately six months to complete. Krusinski Construction worked closely with the Illinois Department of Transportation (IDOT), ComEd, Nicor and the Village of Melrose Park to build new infrastructure elements, including roads, detention ponds, water mains and stormwater systems, and utility service.
"It's no small undertaking to demolish existing improvements and prepare a significant land site for a substantial development like Chariot Logistics Center," says Michael Metz, Vice President, Krusinski Construction Company. "More than anything, such an effort requires persistence, communication with key people and organizations involved, and the ability to adapt and value engineer when surprises occur."
Highlights of the demolition and site work efforts led by Krusinski Construction included:
+/- 42,000 tons of concrete was reclaimed from the site including the grandstand, that comprised Maywood Park Racetrack
Scrap removed from site was approx. 4,600 tons
Approximately 13-15,000 tons of asphalt was ground and stockpiled on the site
+/-200,000 cubic yards of earth were moved on site
Three detention ponds (capacity of approximately 6.2 million gallons of water) were created
+/-19,000 linear feet of utilities and associated utility structures were removed and replaced by more than 22,000 feet of new utilities and over 140 new utility structures
Relatively early in the process, a deal was struck for a single tenant, one of Krusinski Construction's strongest existing ecommerce clients, to occupy all of Chariot Logistics Center. This provided a unique opportunity for the ecommerce giant to further shape the design and construction of the buildings. Following construction of the core and shell of the buildings, Krusinski Construction built out each building to meet the operational needs of its client.
Buildings 1 and 2, the two largest buildings at 236,000 and 252,000 square feet, respectively, were finished to serve as parking and storage to house the firm's fleet of next-day delivery vans. Krusinski installed upgraded ventilation systems to eliminate exhaust produced by the vehicles and ensure the safety of all who work there. Interior build-out of these spaces consisted of adding restroom facilities and striping of the concrete flooring, among other things.
Building number 3, which spans 135,000 square feet, was built out to serve as an ecommerce delivery station. Packages are brought to the building on semi-trailer trucks, sorted and loaded onto vans. The buildout for this was more extensive and included a 10,000-square-foot office space as well as employee restrooms and breakrooms. Krusinski Construction also installed specialized cooling systems within the building.
Construction highlights included:
More than 1,431 tons of steel were used in the construction of the three buildings
More than 20,550 cubic yards of concrete were poured in the construction of the floors and outdoor parking areas
6,760 linear feet of precast wall was installed
Any further description or highlights of the construction of the three buildings (number and/or weight of tilt-up panels, etc.)
On the exterior of building 3, a massive steel canopy was installed to help shield and protect the loading process from severe weather conditions.
The name Chariot Logistics Center pays tribute to the former use of the site. Maywood Park Racetrack, which featured harness racing, was developed in 1946. Races were held at the track until 2015. Maywood Park's premises consisted of a ½ mile racetrack, a grandstand and related facilities to accommodate more than 33,000 sectators, and a stable to house nearly 1,000 horses. The site originally was developed as the Cook County Fairgrounds.
The Krusinski Construction project team for demolition, site work and building construction included Michael Metz, Vice President; Brian Henrich, Project Manager; George Hollendoner, Project Superintendent; and Doreen Hsu, Project Coordinator. The Krusinski Construction project team for tenant build-out included Justin Risetter, Project Manager; Aron Dragovic, Project Engineer; Dan Kasheimer and Bob Shannon, Project Superintendents. Chariot Logistics Center project team partners included architects, Harris Architects and Progressive AE; and civil engineer, Kimley Horn.
ABOUT KRUSINSKI CONSTRUCTION COMPANY
Founded in 1973, Krusinski Construction Company is a leader in providing comprehensive construction services by creating long-lasting partnerships. KCC delivers solutions to complex building projects in the Chicago metropolitan area with national reach in a wide-range of industries. KCC is an active member of the U.S. Green Building Council and is a founding member of Citadel Group, an alliance of seven "best-of-class" regional construction-related companies in 17 cities that have affiliated to serve the needs of national clients. For more information on KCC, visit www.krusinski.com.
###