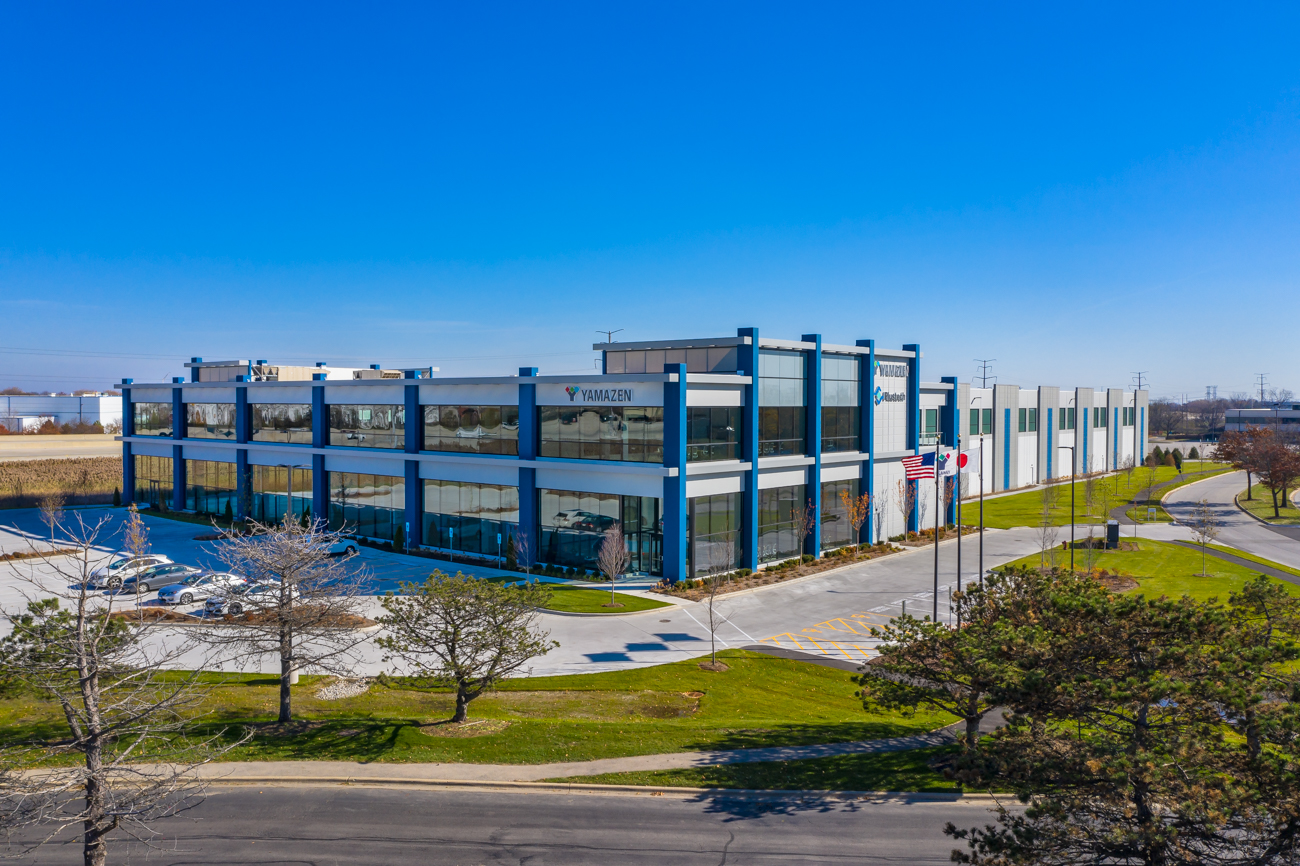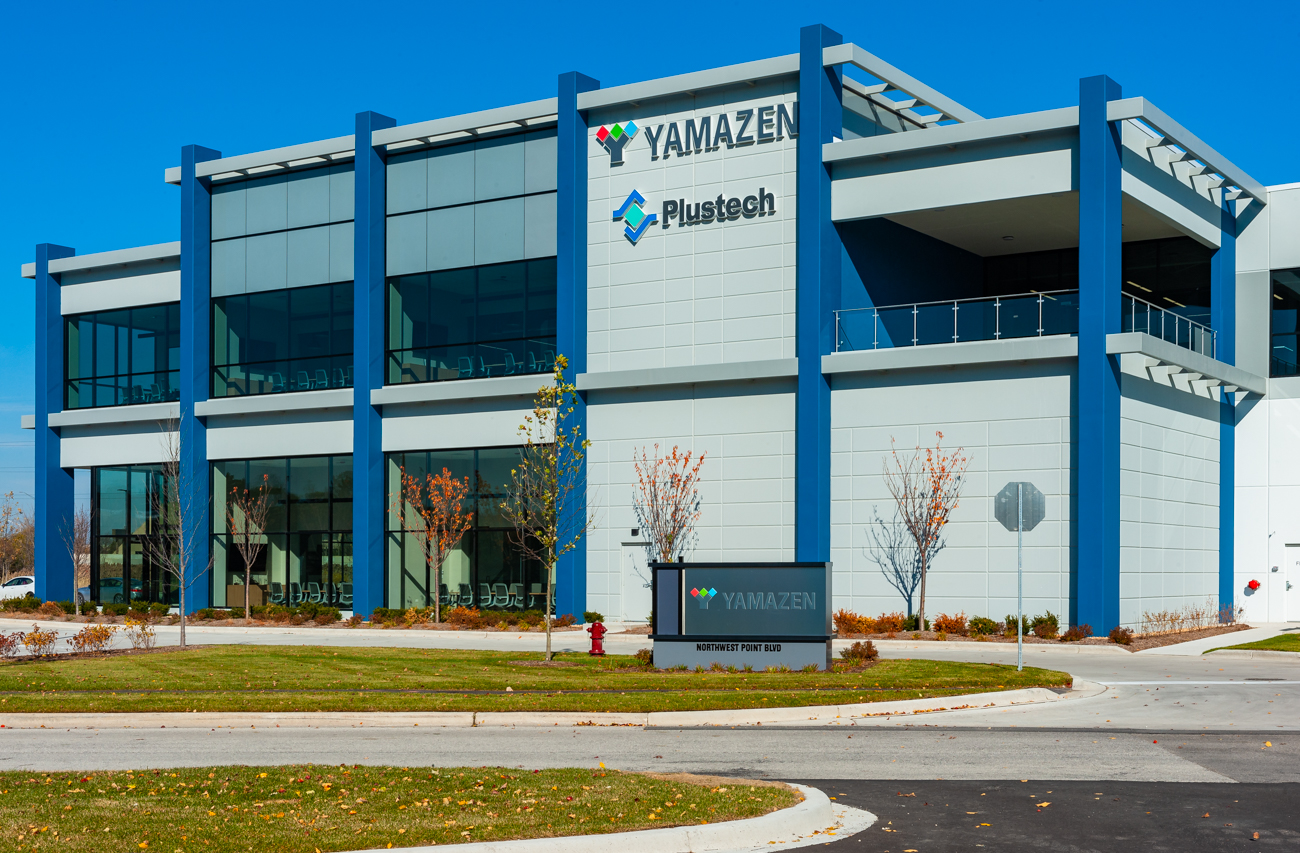 ELK GROVE VILLAGE, IL (March 8, 2021)—Krusinski Construction Company has completed the ground-up construction of the new corporate headquarters, showroom and warehouse facility for Yamazen Inc. at 111 NW Point Blvd, Elk Grove Village, Illinois.
Yamazen Inc. is a specialized global trading company with a strong focus in the distribution of CNC machine tools and other industrial and engineering equipment.  
The new two-story, 138,000-square-foot state-of-the-art facility sits on a 7- acre site off of Interstate 90 and features 50,000 square feet of Class A finished office, conference room and related employee space, including a dramatic entryway. Additional space in the building includes a 50,000-square-foot warehouse; two sales, demonstration and training areas, including a 17,000-square-foot turnkey robotics center and a 13,000-square-foot sampling and demonstration center; a 6,500-square-foot parts and tooling center; and parking for 137 vehicles.
The building's all-glass entrance, with 30-foot ceilings, a contemporary reception desk and two-story monument staircase creates an inviting and dramatic welcoming for clients and visitors. Immediately off the reception area are three Class A appointed conference/meeting rooms featuring 18-foot ceilings and generous use of glass.
The second floor space includes additional conference rooms, high ceilings, bullpen seating in an open plan and a limited number of private offices, finished with floor-to-ceiling glass. The executive office area, featuring floor-to-ceiling wall panels and elegant wall sconces, also includes private offices and an executive board room. Additional amenities of the second floor space include an employee kitchen and lunchroom, and large balcony.
Two client-facing areas located on the first floor of the building are the turnkey robotics center where up to 20 pieces of equipment can be observed in use, and the sampling and demonstration space where as many as 30 pieces of equipment can be demonstrated to Yamazen's existing and potential clients.
The 50,000-square-foot warehouse and the 6,500-square-foot parts and tooling center are also located on the first floor. The warehouse area features an overhead material handling crane which is necessary because of the size and weight of the machines and parts that are kept within the facility. Further specialization of this space includes a state-of-the-art forklift, with a guidewire embedded into the concrete, to avoid driver error and potential damage and specialized fire safety equipment required by Elk Grove Village.
Previously, before Yamazen acquired the land for its new building, nearly two thirds of the development site was the pond near the entryway to the business park. During site work, approximately 27,000 cubic yards of clay fill and 2,207 aggregate piers were used to prepare the site.
"This was a fascinating and rewarding project, from the extensive sitework required to the diverse elements and functions of this Class A corporate headquarters and showroom facility, to the weather challenges in early Spring 2020," says Michael Metz, LEED® AP, Vice President, Krusinski Construction Company. "In the end, the Krusinski Construction team, including many talented subcontractors, created a dramatic facility for Yamazen."
The Krusinski Construction team included Jeffrey Krusinski, President; Michael Metz, LEED® AP, Vice President; Brian Heinrich, LEED® AP BD+C, Project Manager; Michael Urick, Senior Project Superintendent. Partners on the Yamazen team included Ketone Partners as owner representative; Cornerstone Architects, Ltd. as architect; and V3 Companies, Ltd. as civil engineer.
ABOUT KRUSINSKI CONSTRUCTION COMPANY
Founded in 1973, Krusinski Construction Company is a leader in providing comprehensive construction services by creating long-lasting partnerships. KCC delivers solutions to complex building projects in the Chicago metropolitan area with national reach in a wide range of industries. KCC is an active member of the U.S. Green Building Council and is a founding member of Citadel Group, an alliance of seven "best-of-class" regional construction-related companies in 17 cities that have affiliated to serve the needs of national clients. For more information on KCC, visit www.krusinski.com.