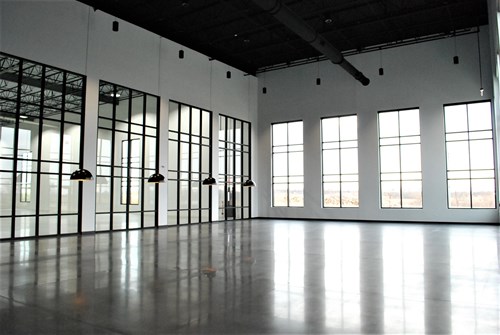 Oakbrook, Illinois - Krusinski Construction has completed a 54,000-sf warehouse expansion to Camcraft's industrial facility in northwest suburban Bartlett, Illinois. Camcraft manufactures precision machined parts for a variety of industries, including aerospace, diesel engines, mobile hydraulics and more.
In addition to the more than 40,000 sf of warehouse space, 8,000 sf of office space and 1,500 sf of laboratory space, the expansion also includes the following:
design components that match Camcraft's original building design;



site work includes utility revisions and additional parking spaces for future use;



a high-end break room, with full-height windows to give the space a more open feel and transparency between the different spaces;

 

the addition of an office area that features an open layout to promote collaboration, as well as the addition of locker and restroom areas;



installation of two bus ducts that run the full length of the warehouse and allow for the strategic placement of equipment and power connectivity;



the addition of the CMM lab that allows for product inspections and analysis;



a demising wall and the addition of a high-speed truck door which helps facilitate the movement of trucks and equipment throughout the facility and also helps create a more distinct separation between the two companies (Camcraft and Matrix).
This project completes a long-term development and expansion program that was originally envisioned in 2017. The careful, proactive planning by Camcraft and Krusinski Construction improved certain efficiencies and helped expedite this warehouse expansion.
The warehouse addition at Camcraft's Bartlett facility allows both Camcraft and its sister company, Matrix Design, LLC., to expand their operational footprints.
Recognized as a trusted advisor, Krusinski Construction, is proud of its on-going partnership with long term and repeat client, Camcraft. This is the second construction project Krusinski completed for Camcraft in 2022, following the renovation of its Hanover Park facility. Overall, Krusinski has completed five projects for Camcraft.
Recently Published: