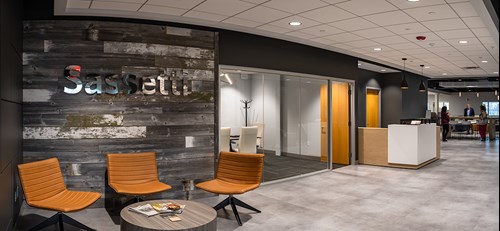 Following their recent 100th anniversary, CPA firm Sassetti relocated its headquarters into a new office space in Oak Brook, Illinois. Krusinski Construction Company (Krusinski) partnered with Newman Architecture to provide design-build services for the modern tenant build-out, which was successfully completed on a fast-track schedule.
Sassetti's new office includes open and partitioned workspaces, private offices, conference rooms, server room, kitchen space, a lobby and a reception area. In addition to custom millwork, there are accent wall panels throughout the space, new LED light fixtures, and other high-end finishes.
Jim Robbs, Sassetti partner, stated, "I observed and tracked the construction progress throughout, and Krusinski delivered an excellent product, on time. This was an excellent feat considering COVID's product availability and delivery issues."
Krusinski also reconfigured the building's security and access control system and updated the mechanical, electrical and plumbing systems.
Sassetti has consolidated its Oak Park and Naperville locations into their new office space, located on the second floor at 2107 Swift Drive in Oak Brook, Illinois. Krusinski Construction Company owns the property and also occupies office space for its corporate headquarters.